Posted by i3DiSPLAY on 28 Aug 2019
PLUG-INS E-NEWSLETTER · AUGUST 2019
---
In this issue:
QueueManagement System
RSS Content Plug-ins
Passive Product Showcase / Price Checker
Active Product Showcase
Proximity Awareness
---
i3DiSPLAY Plug-ins News Update
i3DiSPLAY has taken yet another step forward to extend the functionalities available by adding a host of new plug-in modules.
Even though the base platform is able to handle the large majority of your digital signage needs, there are times when more specialized abilities are required.
In this article, we outline all the latest additions to the i3DiSPLAY Plug-ins family.
Queue Management System
The Queue Management System Plug-in has been designed for those businesses/services whereby queues regularly form. The system is entirely user-configurable via Cloud computing, where the user is able to change parameters as per their requirements. Banks, restaurants, service counters, and hospitals are some of the organizations that can benefit from using this plug-in.
The 3 Major Components that Make Up the System are as Follows:

Distributing Queue Numbers
A user simply approaches the i3DiSPLAY device, and optionally select the service required. A ticket will then be printed for the user. An additional option is for the user to key in their mobile phone number, after which they will be sent an SMS notification informing them that their turn is soon.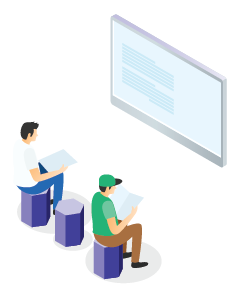 Display & Voice Announcement
Current queue number being served will be displayed in real-time, and when the next number is ready to be called, an automatic voice announcement will be aired, in addition to the number being displayed on the screen.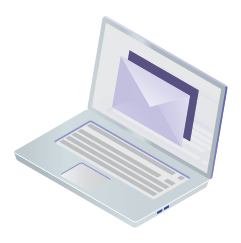 User Interface
Staff will have a computer-based interface to control the Queue Management System. This will a allow them to perform commonly used functions such as paging the next queue number, or skipping a queue number.
On top of this, the i3DiSPLAY device(s) can be fully customized, so that advertisements or other relevant information can be displayed to captive audiences who are waiting in line. This often leads to more effective advertising or information dissemination, as audience attention is more focused.
RSS Content Plug-ins
RSS Content isn't a new technology, but i3DiSPLAY has now incorporated it as a plug-in in order to provide a more complete and comprehensive user experience to our clients. Now, to add some "life" to your display, a running ticker can be added to the composition of your display page. Graphic display of clocks, news, or weather, can now be inserted into any available slot on the relevant pages.
Below are some examples for reference:

Passive Product Showcase Plug-ins / Price Checker
How often have you walked into a store or a showroom, seen a product that you're interested on, but are unable to find a member of staff to assist you? Even the simplest questions, such as stock availability, will remain unanswered, and you walk away without making a purchase. Even if there are staff members around, sometimes their knowledge is insufficient to answer your question, or even worse, inaccurate.
Now, with our Passive Product Showcase Plug-in, its possible to allow any product with a barcode, NFC labels, or QR code, to be scanned at our i3DiSPLAY devices. Potential customers can take this product close to a sensor attached to or near our i3DiSPLAY device, and relevant information will appear. This information could be as simply as sizes or color options available, all the way to interactive content and/or instructional or advertising videos.

Depending on the type of information that will automatically be shown on the i3DiSPLAY device, you could set them up as Product Information Kiosks, Price Check Kiosks, or simply display additional promotional material to try and encourage the sale.
Active Product Showcase
This plug-in is designed for product displays in shops or showrooms. An NFC label is attached to a product and placed on top of sensor under the display rack. When the customer lift up the product, relevant information slides or product promotional videos appears on the i3DiSPLAY device.
Proximity Awareness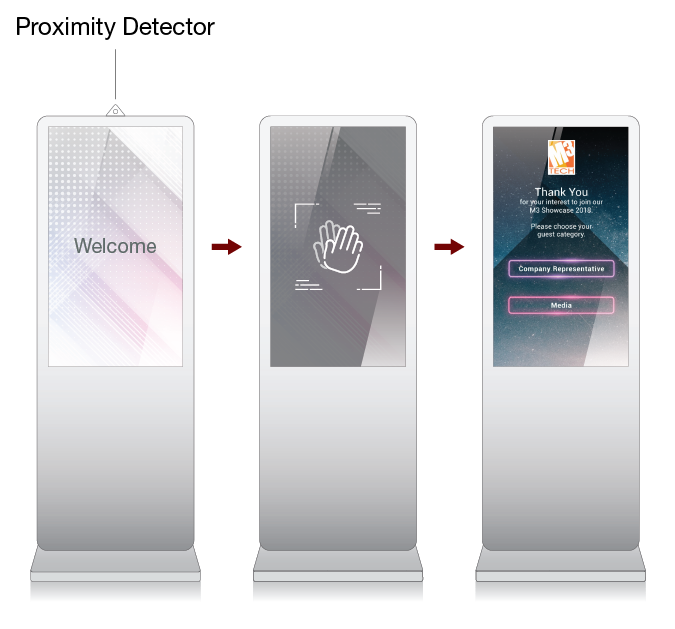 When our i3DiSPLAY devices are placed in shopping malls, or at events, or anywhere else, the Proximity Awareness Plug-in will "activate" the device when people approach it. This means that, rather than the usual content; the i3DiSPLAY device can be programmed to display whatever is deemed relevant to the user inthatparticularinstance.
For example, at an event, a welcome message (e.g. images, text, sound clips, animations, videos) could be played.
At a restaurant, an ordering interface with a menu. The possibilities are only limited by one's imagination. This ushers in a new concept of displays with "intelligence" that is tailored to the specific environment and application.