Posted by Allyssa on 16 Dec 2020
Consumers attitudes, behaviours and purchasing habits are changing—and many of these new ways will remain post-pandemic. The answer to survive this change for business owners? Contactless retail.
COVID-19 pandemic has radically changed the way independent restaurants think about self-ordering kiosk. What was once seen as costly and impersonal technology, is now considered a cost-effective way to reduce face-to-face contact and keep guests safe from the spread of the coronavirus.
The COVID-19 pandemic has caused the technology to become even more popular, mainly due to its many benefits that will help many retail businesses throughout this tough time.
Improve in-store efficiency
Increase check sizes
Decrease wait times
Enhance order accuracy
Save money on labor
Keep staff and customers safe
See how does a seamless contactless checkout process works: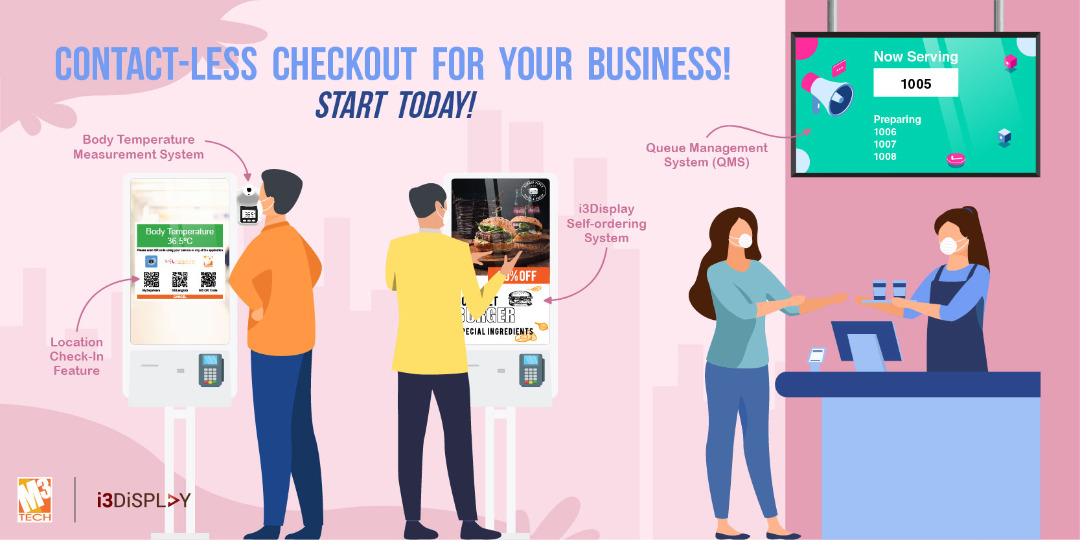 Step 1: i3Display Body Temperature Measurement System
Real time fever detection and alert
99% temperature measurement accuracy
Dynamic temperature display
Contactless ultra distance detection
Built-in system with i3Display Kiosk Solutions
Step 2: MySejahtera Check-In Feature
Convenient: QR code generated on the screen of the built-in kiosk to ensure customer's check-in
Contact tracing: Collect visitor's temperature data and contact details.
Step 3: i3Display Kiosk Solutions
Promote social distancing: allow customers to place their order & pay – all without interacting with your staff
Customization & Flexibility: display menu can be change from time to time
Save cost: Reduce the number of front-of-house employees responsible for taking orders
Accurate: Reliable order accuracy by customers and staff
Different type of kiosk configurations for different businesses. Design one that suits your needs, and incorporates your shop's theme, or your corporate identity. There are also standard models which you can order immediately. Custom designs are also available, from a simple reskin to a customized enclosure built to your specifications
Step 4: Queue Management System (QMS)
Improve customers satisfaction: Reduce negative perceptions of wait times & queue length
Environmental-friendly: Paperless Queue System
Flexible solution capable of addressing any business requirement and all types of customer service (retail, healthcare, government, and others)
Why choose us?
We are your businesses one-stop solution provider to streamline your contactless checkout! To learn more about how you can set up contactless checkout for your business in just a few hours, get in touch with us today – we'd love to chat!
Contact us NOW at +603-7886 2423 or email sales@m3tech.com.my to get more information.