Restore Channel
Posted by i3Displays Team on 28 Mar 2018 3:38pm
Restore Channel
Restore channel function is to restore user's old CMS channels.
To backup old CMS channels, click Channels > Channel List > Select Channel > Click on "Download & Backup" > "Download to PC"

User Will download file in Zip

After User download file from old Channel.
Click "Channel" > "Restore Channel" > Click "Choose File" > Choose File From user local folder > Click Upload.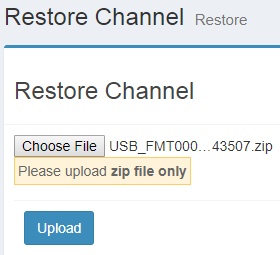 User Channel will Appear in List Channel.